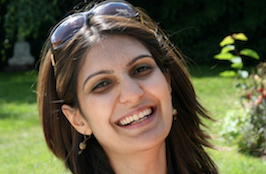 Hi,
I'm Priya Amlani, your local NLP4Kids Practitioner.
I qualified as an NLP Practitioner in May 2009, Master Practitioner in NLP, Time Line Therapy and Hypnosis in 2010 and Master NLP Coach in 2010 and then did my NLP4Kids Training in May 2012.
I often wonder how different life would have been, had I been exposed to these techniques as a child. I now feel fortunate that I have had the opportunity to learn and apply the powerful tools that can bring about positive change in the lives of others. I am able to do this using the step by step method of NLP, Time line therapy®, hypnosis and coaching. I feel fortunate that I have come to a point in my life where I feel that I can successfully share these useful and priceless skills and tools with others and most of all with our future generation, our children.
With a background as a successful Optometrist and still working in the NHS as a paediatric optometrist, I assess children from the age of 9 months to 18 years of age. I find the tools of NLP very useful in calming the children, engaging them and empowering both the parents and children while I assess them. It is at this point that I realised how much better their lives can be if they had these NLP tools to hand themselves. I therefore decided to join the NLP4Kids team.
Instilled with a passion and desire to help others from a very young age, NLP coaching has enabled me to live my dream. I have been able to empower various people to achieve their goals and having heard and seen myself transform from a shy quiet girl to a lady full of confidence, I am yearning to pass these skills/secrets to others. I am passionate about my coaching of every individual, every group, and every child to assist them in leading a life of success and excellence.
I offer a free consultation so that you and/or your child can meet me and ask any questions you may have before we start our work together.
Please contact me on 07779645834 or email me on Priya@NLP4Kids.org
www.amlanicoaching.com